SHEFFIELD HALLAM UNIVERSITY TWINNED WITH KYIV NATIONAL UNIVERSITY OF TECHNOLOGIES AND DESIGN IN OFFER OF SUPPORT TO STUDENTS AND ACADEMICS
A significant event between academic institutions of Ukraine and the United Kingdom took place recently.
Vice-Chancellor of Sheffield Hallam University Professor Sir Chris HUSBANDS and Rector of Kyiv National University of Technologies and Design Professor Ivan GRYSHCHENKO signed a Memorandum of Understanding.
Sheffield Hallam University is one of 30 in the UK to have been matched with a Ukrainian institution as part of a "Twinning initiative" coordinated by Cormack Consultancy Group with the support of Universities UK. Initiatives being considered by the 30 universities who have signed up to the scheme include enabling access to IT infrastructure and accommodation, providing access to libraries and online academic resources, and giving Ukrainian students who can speak English the opportunity to take online UK university modules. Work is also underway to protect Ukrainian resources including rare book collections, while the possibility of hosting summer schools at UK campuses is also being explored.
An initial meeting has taken place between the universities to identify immediate needs and response. In the medium to longer term the intention is to establish teaching and research collaborations, including student and staff mobility.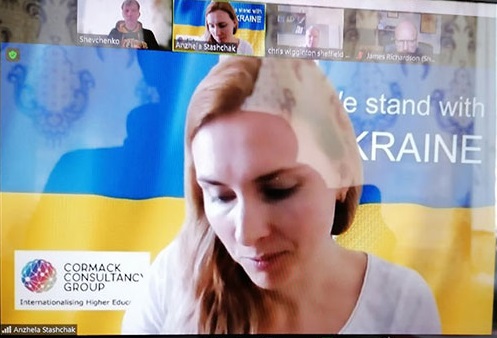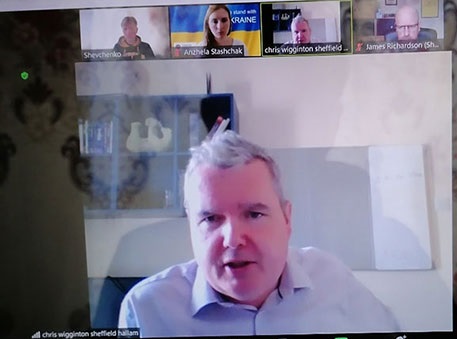 Professor Chris WIGGINTON, Pro Vice-Chancellor for Global Engagement and Academic Partnerships, said: "As a University of Sanctuary, it is our duty to offer support and solidarity to the universities in Ukraine in response to the Russian invasion. We are delighted to be twinned with Kyiv National University of Technologies and Design (KNUTD) as we have a shared mission for applied learning and research. We are working to provide immediate support to the students and staff at KNUTD".
Director of the KNUTD Institute for Internationalization of Higher Education and Science, noted: "In these difficult times of unprecedented aggression by the russian army, the question of international support of Ukrainian educational institutions by the academic community from all over the world has been arisen as never before. Universities in the UK are most active in this mission, showing an example of constructive practical support. Sheffield Hallam University, in our opinion, is a model for admiration in this sense. Therefore, we express our sincere gratitude from all KNUTD staff and students for their invaluable motivation to work with even greater inspiration".
Charles CORMACK, Founder and Chairman of Cormack Consultancy Group, said: "This project is designed to support Ukrainian universities to continue to function during this difficult time. By supporting them in their mission, we are also minimising the risk of brain drain, with academics and students disappearing into the HE systems of other countries. It also allows UK universities to focus their support on a particular partner, which allows them to see they are making a real difference to the lives of academics and students and helping to sustain their partner."
Professor Dame JANET BEER, Vice-Chancellor of the University of Liverpool and Chair of UUK's International Policy Network, added: UK universities have unequivocally condemned the war on Ukraine and we are committed to supporting Ukrainian staff and students currently in the UK as well as those who arrive here fleeing the conflict.
"Our universities have a wealth of resources, knowledge and expertise, and we want to find practical ways to support Ukrainian universities now and in the future. That starts with understanding their current needs, and this twinning initiative is an excellent way for UK universities to support Ukrainian universities directly, in partnership alongside our higher education counterparts around the world."
We sincerely thank our British partners for their support!
03.05.2022