KNUTD

Kyiv National University of Technologies and Design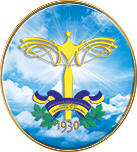 Pecherski Kashtany 2010
ATTENTION!
We are happy to announce the preliminary stage of
X Anniversary International Competition for Young Fashion Designers of Costumes
"PECHERSKI KASHTANY".
The Competition will take place on 17-22 May 2010.
Nominations are following
Men's and Women's Clothing

Children's Clothing

Footwear and Accessories

Textile

PRET-A-PORTER
PRET-A-PORTER
PRET-A-PORTER
Tapestry and Abakan "Textile Plastic Art"
PRET-A-PORTER De Lux
Folk
Folk
Avant-Garde
Pro-Art
Batik (interior)
Pro-Art
Art-Fashion
Couture
Textile accessories
Doll
Organisational contributions:
Clothing contest – 350 UAH
Footwear and accessories contest – 300 UAH
Textile contest – 200 UAH
Application form should be submitted till 28 April 2010.
Contacts:
"Students' Fashion House" of Kyiv National University of Technologies and Design Room 508a Nemirovich-Danchenko Street, 2 Kyiv 01011 Ukraine +38(044) 256-21-12 +38096-281-32-70 Pecherskiek@mail.ru