KNUTD HOLDS THE POSITIONS BETWEEN 201-240 IN THE WORLD
AND IS RANKED FIRST IN UKRAINE
IN THE QS WORLD UNIVERSITY RANKINGS 2023 BY SUBJECT: ART AND DESIGN!!!
Today, on March 22, 2023 we witness an outstanding international event in the history of Kyiv National University of Technologies and Design!

For the first time in the rating history by the most prestigious international ranking of institutions of higher education, the QS WORLD UNIVERSITY RANKINGS https://www.topuniversities.com/university-rankings/university-subject-rankings/2023/art-design?&countries=ua, our university has entered the world ranking list by subject: "Art and Design" and was qualified in the above segment between 201 -240 globally, being the first and the only HEI in Ukraine! Moreover, in the entire history of the subject rating, no other Ukrainian higher education institution has been gained such international recognition in this area!
To form this year's ranking, the QS WORLD UNIVERSITY RANKINGS team analyzed more than 16.4 million unique articles from 1,594 institutions of higher education (including 103 the new ones) and ranked universities by 54 educational programs in 5 broad subject areas, creating more than 18,300 ranked entries. These figures reflect the scale and special significance of the initiative undertaken by the QS team to create subject rankings.
The QS World University Rankings by Subject aims to help prospective students identify the world's leading schools in their chosen field in response to high demand for subject level comparisons.
Academic educational programs are ranked according to five indicators to assess their effectiveness according to such important criteria as academic reputation, reputation from employers and faculty research.
Cordial congratulations to all KNUTD members of staff, faculty and students with this remarkable victory and well-deserved high international recognition which is a true acknowledgement of the University development vector correctness and the extraordinary success in implementing its internationalization strategy.
Now, as never before, under the challenges of a prolonged full-scale war, it is so important to express special gratitude to the entire University team for their unique cohesion and powerful support, as well as to separately mark the extremely effective efforts of the Head of this institution in pursuing a sustainable and consistent policy of further development of national education and science and well-targeted strategy of integration in the international academic space.
We are firm and strong in holding the scientific and educational front!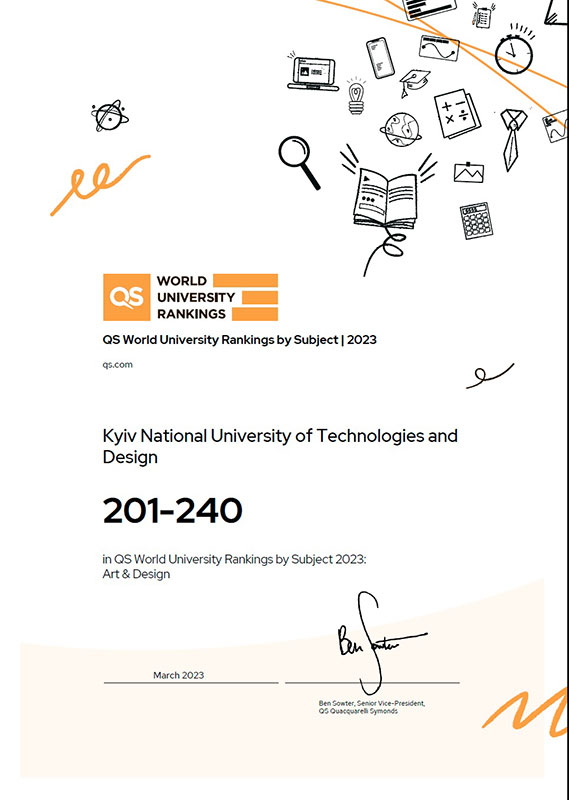 23.03.2023