RECOGNITIONS
During its existence KNUTD had different names, status, structure. The first name of the University was Kyiv Institute of Leather. It was established on 1 October 1930 with 485 students, on 20 May 1944 - Kyiv Technological Institute of Light Industry, 1993 - State Academy of Light Industry, 1999 - Kyiv State University of Technologies and Design, and on 7 August 2001 owing to national and international recognition, performance and significant contribution to the development of national education and science by the decree of the President of Ukraine, the University was granted a national status. Since then it has the name of Kyiv National University of Technologies and Design.
In 2015 Kyiv National University of Technologies and Design celebrated its 85th anniversary. During its existence the University has become one of the leading educational institutions of Ukraine. Thanks to the efforts of many generations of teachers, thousands of young professionals were trained and now they represent their alma-mater in Ukrainian economy, fashion and design, have outstanding achievements in the development of Ukraine. An integral part of the University activities is integration into the European educational and scientific space, the implementation of training professionals for many countries. High professionalism and selfless team work contribute to strengthening the educational capacity of the state and provide the reform of higher education in the context of global challenges. Taking into account the University achievements, the President of Ukraine Petro Poroshenko congratulated Kyiv National University of Technologies and Design with 85th anniversary.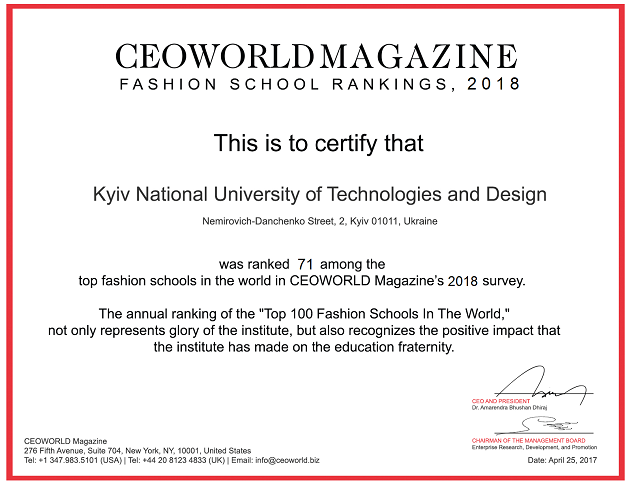 "Choice of Ukraine" - National Independent Business Award, whose purpose is to determine the best goods and services in different classifications of economic activities and their further popularization on the Ukrainian market.
According to official data of the state statistics of Ukraine, as a result of research by ICCA - 50 (Congress and Conventional Association at 50) among the companies working in Ukraine according to indicators of financial and economic activity Kyiv National University of Technologies and Design was awarded the status title of "choice Ukraine 2016" for contribution to the development of Ukraine.
The award "Choice of Ukraine 2016" is the result of hard work and well-deserved reputation in the eyes of customers, partners and competitors. It also confirms that the company pays honestly taxes and contributions to social funds, takes care of its employees, creates jobs, introduces new technologies and creates a new type of economy that is not based on natural resources, but on the professionalism.
Also for achieved successes and significant contribution to the development and prosperity of the company, organizational skills, high professionalism and unconditional dedication for the company and the staff the Rector of the University, Doctor of Economics, professor, academician Ivan Gryshchenko has been awarded a national certificate of "Golden Hands".