Information for scientists, teachers, senior students and graduates!
The Fulbright program sponsored by the US government is a leader in the international education system and announces annual competitions.
FOR GRADUATING SENIORS, GRADUATE STUDENTS AND YOUNG PROFESSIONALS
Fulbright Graduate Student Program provides study grants for students to complete 1- or 2-year academic programs for a Master of Arts or Sciences degree or non-degree programs at U.S. universities. The deadline for applications is May 16 each annually.
FOR JUNIOR FACULTY AND RESEARCHERS
Fulbright Research and Development Program provides opportunities for scholars and professionals to conduct research, engage in course and curriculum development. The deadline for applications is November 1 annually.
FOR THOSE WHO HOLD "KANDYDAT NAUK" AND "DOKTOR NAUK" DEGREES, RESEARCHERS AND PROFESSIONALS OUTSIDE ACADEMIA
Fulbright Visiting Scholar Program offers research opportunities at U.S. universities and research institutions for scholars, researchers and other professionals for a period from 3 to 9 months. Academic candidates must have a post-graduate academic degree (Kandydat Nauk, PhD, PhD in Arts, Doctor Nauk). Professionals and artists outside academia may be exempt from the requirements to have a third level qualification if they have 7 or more years of professional qualifications and/or experience, recognized professional standing and substantial accomplishments. The deadline for applications is October 15 annually.
FOR FACULTY AND PROFESSIONALS IN THE HUMANITIES AND SOCIAL SCIENCES
The Fulbright Scholar-in-Residence Program brings visiting scholars and professionals from abroad to lecture at U.S. colleges and universities for one semester or one academic year. In addition to teaching courses, scholars give campus-wide and community lectures, help initiate international programs and contribute to curriculum development. The program is especially appropriate for small liberal arts colleges, minority-serving institutions, and community colleges in the U.S., many of which do not often have the opportunity to host visiting scholars.
FOR UKRAINIAN ACADEMIC INSTITUTIONS OF HIGHER LEARNING AND RESEARCH INSTITUTIONS WHO WISH TO HOST U.S. SPECIALISTS
Fulbright Specialist Program: Ukrainian educational and research institutions can invite U.S. faculty and professionals to collaborate with their counterparts on curriculum and faculty development; institutional planning; participation in conferences, seminars, and workshops; and intensive teaching activities with students and faculty. The program awards grants ranging from 2 to 6 weeks.
Detailed information on the link https://fulbright.org.ua/uk/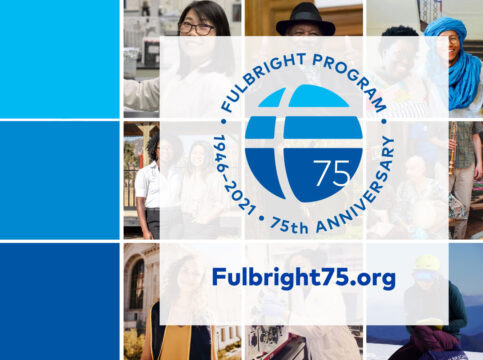 22.02.2021