October 25, 2013 marked one year since the creation of "Prof. Hersh Chadha Studio", which has been provided with modern equipment in the photo means the world photographer and maecenas - Professor Hersh Chadha.
During this time the studio has become a center of learning students of KNUTD and improve the skills of the members of the Club of the pupils of Professor Hersh Chadha, a meeting place for professionals and photo enthusiasts, the center of propaganda photography and creative laboratory for young fashion designers of the suit and shoes.
The birthday party studio visited the teachers and students - representatives of all areas of its activities, as well as special guests from the National Union of Photographers of Ukraine, who have traditionally supported our creative young people.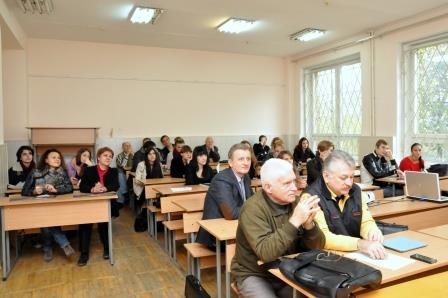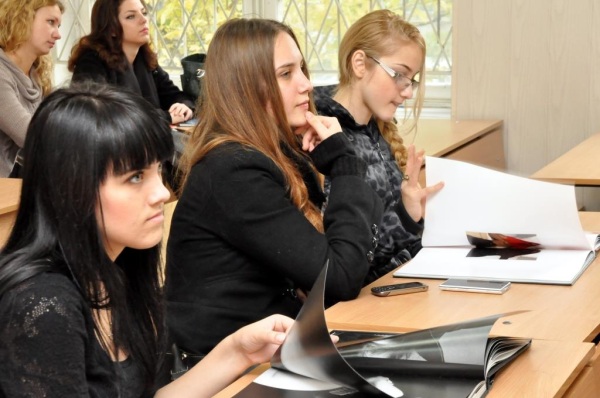 Members of the Union: Mr. Ivashchenko N.N. - Member of the Bureau, a member of the Board, a member of the Admissions Committee and Mr. Skliarenko V.A. - Member of the Bureau, a member of the Board, photo curator of schools. They noted the excellent facilities that must KNUTD for training in photography and the use of its opportunities in the fashion industry, advertising , design and other areas. They were awarded the most active teachers and students who have made a significant contribution to the development of photography and photo design in KNUTD.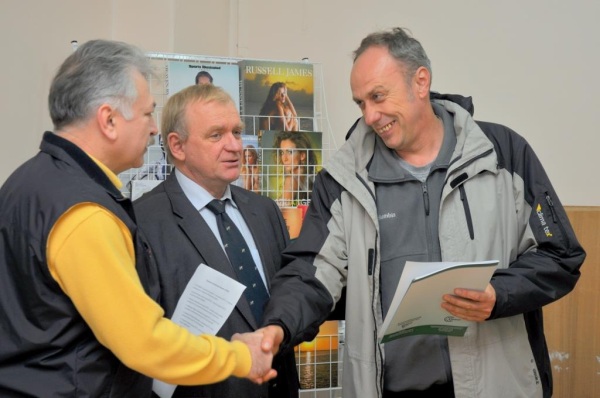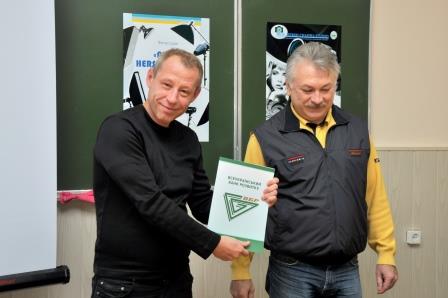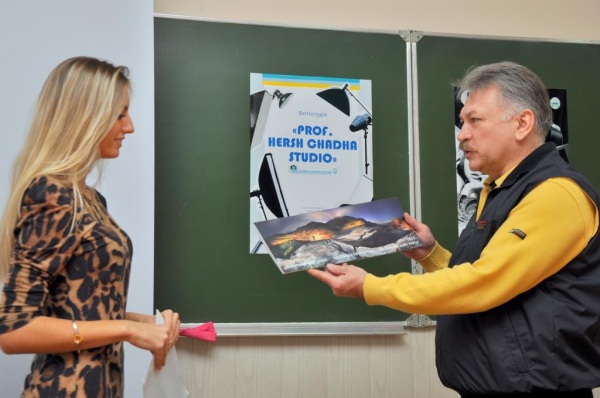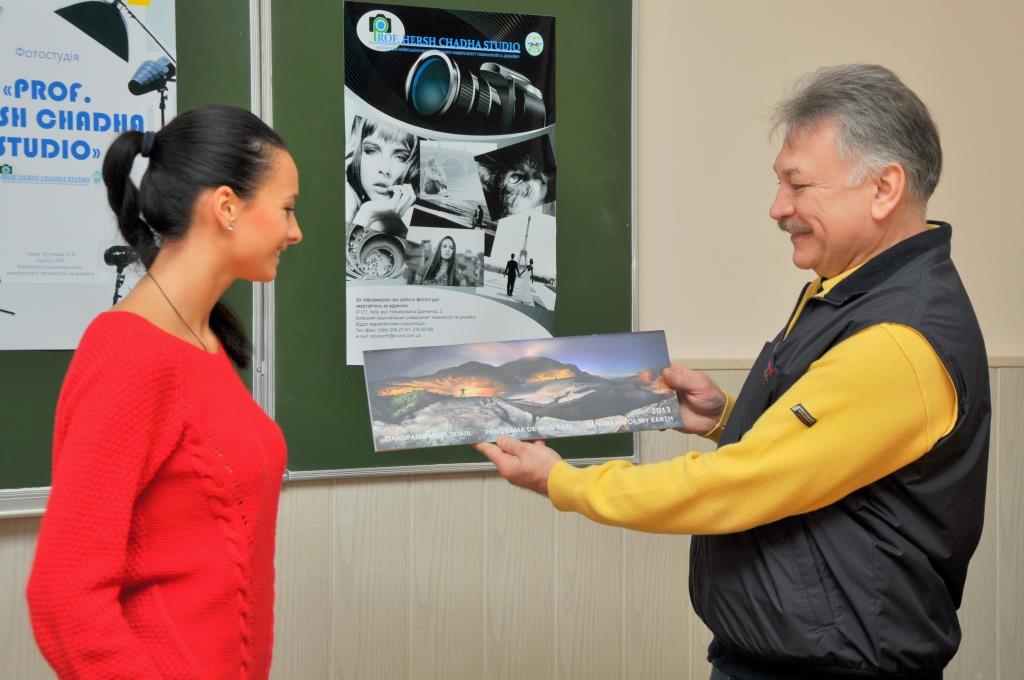 Master of Economics and Business Julia Pluta read out a greeting sent by Professor H. Chadha to meeting participants.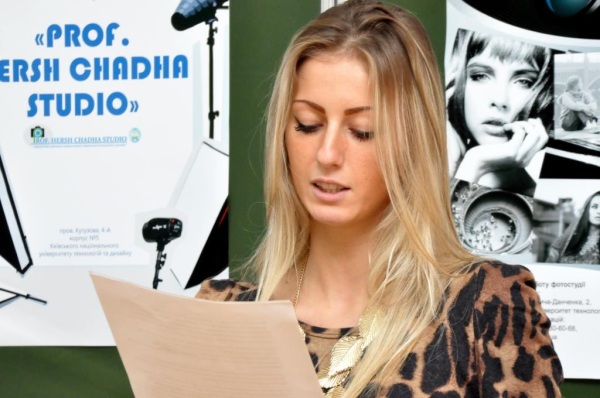 Greeting professor Hersh Chadha
Dear Students,
One year has passed by since this photography studio opened its doors for talented and upcoming photographers of KNUTD. My heartiest congratulations to the Director, the faculty members and the students of KNUTD.
I have dedicated over 30 years of my life to photography and promoting education but the passion for photography continues in me till date. I derive great joy and draw a lot of inspiration when I see works of new talented photographers. My association with KNUTD is fairly young, but the amount of respect and love that I have received during this period is priceless.
I would like the upcoming photographers of KNUTD to use the studio and its facilities to enhance their talents and experiment with new ideas and techniques. Photography is an evolution and every day is a new day for learning new techniques and styles. I would like each one of you to think out of the box.
Ms. Yuliya Pliuta is one of the models from your University who has trained under me. She will be visiting Dubai in November this year for further training. I will be training her in detail on some important topics related to grooming of models for which I have developed some theories from my several years of working with top models. On her return to the University, Yuliya will be giving a detailed talk to upcoming models and photographers who wish to pursue fashion photography. I hope that all of you will participate in these talks and would enhance your knowledge.
I look forward to meeting you all in the spring of next year, when I will visit Kiev.
Best Regards
Prof. Hersh Chadha
Photos on the memory - is a symbol, and the technology and the everyday work of professionals.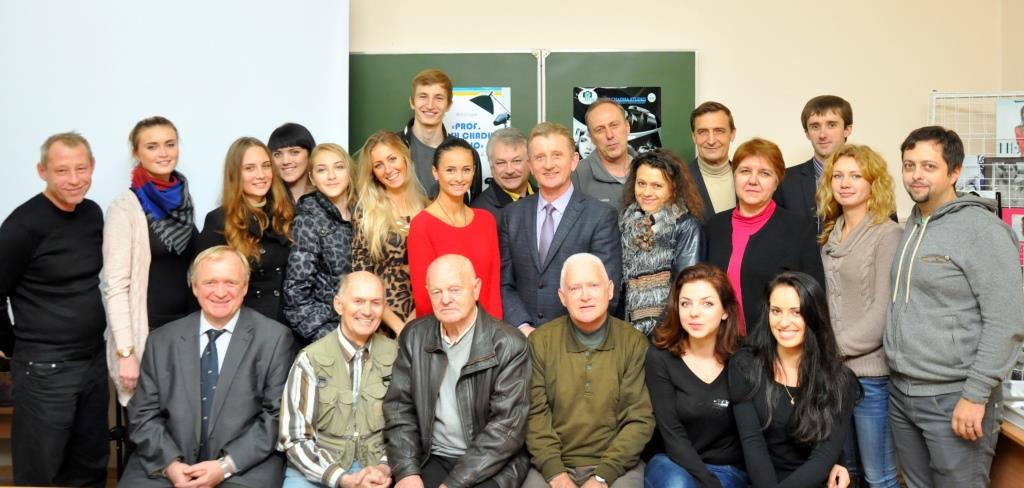 29.10.2013